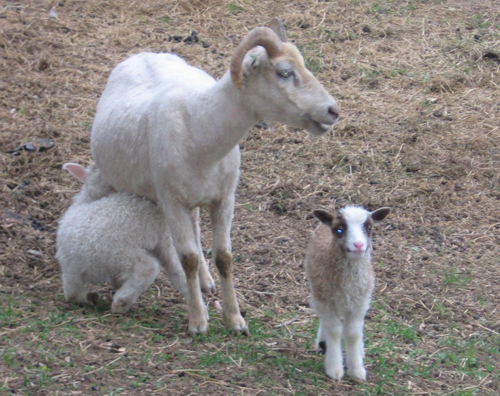 As of right now all we have for sale is our 2012 lambs. Pairings for our lambs are as followed:
Bianca x Izzy
Mimi x Silas
Dakota x Silas
Helen x Izzy
Tamar x Samson
Louisa x Samson
Undrey x Samson
Toola x Silas
Trinity x Samson
We have also breed some of last years lambs but are not if they will take. Here are those pairings.
Rhoday x Silas
Molley x Silas
Nibbles x Izzy
Clay x Izzy
Clair x Izzy
All breeding stock is registered with CLRC . Lambs can be purchased as registered or without registry with the option to purchase registration at a later time.
Our Icelandic sheep are horned without polled ancestors.
See our flock page to learn more about our ewes/rams.
Prices are as listed above. A 10% non refundable deposit is required to hold. Final payment is due at pickup. We offer 20% discount when purchasing three or more registered sheep. This discount does not apply to unregistered and already discounted stock. Our flock is scrapie free and from proven farms. Health inspections are preformed within 30 days of arranged pick up. Any animal with current health inspection will NOT be refunded or replaced after leaving our farm unless otherwise stated on sales agreement.
For further help or to reserve an animal contact Nicole Willis at nickipeeps@yahoo.com
A word of advice
We offer as much help as possible to new sheep owners and would be more than happy to answer any questions. It's our goal to make owning Icelandic a success! Please see our list of resources to learn more about Icelandic sheep and ways to profit from them.

If you have never owned sheep before PLEASE make sure to learn about them.  Find a person that has sheep or goats and mentor them. Contact you local county extension office. Find a large animal vet who will work closely with you. Buy books to keep on hand for emergencies. Learn ways that you can market and advertise your sheep. Most of all DO IT FOR FUN! Owning sheep can be incredibly rewarding.

Be Prepared! Don't bring an animal home before obtaining proper fencing and shelter. Have a medical kit ready for emergencies and DON'T forget to worm! It is good practice to quarantine and worm  sheep after purchase. No matter what farm they come from! I learned this the hard way! My first Icelandic purchase ended 3 weeks after getting them home when they died of a parasite overload.

Some people use natural practices to eradicate worms and others use chemicals. We avoid chemicals, unless we have no other option, to save an animals life. If you decide to use chemicals DO use them properly. This requires you to weigh the sheep. Learn how to check for signs of anemia caused by intestinal worms (Famacha scoring) . Your vet or local extension office will help you decide on a worming routine.

Also. be aware that Icelandic sheep are not like other breeds. They come from a climate that is very different. These sheep are incredibly hardy and have many wonderful attributes, but keep your expectations reasonable when considering this breed. They grow astonishing amounts of wool, they are sensitive to the high concentration of worms found in the United States, and they have high requirement for Selenium. We give BOSE injections to our animals to provide the additional Selenium they require.